​Mhairi Brown leads NRL's technical and engineering recruitment operations across Scotland, working with renewable energy clients to place temporary and permanent workers into this emerging sector. She discussed how businesses can address the renewable energy skill shortage in Business Scotland magazine.
As more and more renewable energy projects commence development in Scotland and across the UK, with it brings requirements to engage an increased numbers of workers into renewable roles. With The Offshore Wind Industry Council estimating that 27,000 people will be employed in the UK's offshore wind market by 2030 – accounting for more than three times the current workforce – there are multiple opportunities for skilled workers to cross over into renewable sectors.
The Global Wind Energy Council recently reported that 36% of the world's offshore wind capacity is being controlled by the UK. In Scotland in particular, the government has made £200m of public funds available to support renewable energy – making the 12,000 kilometres of coastline and over 790 islands prime locations.

​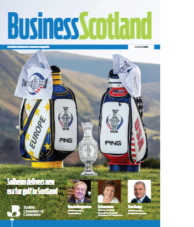 ​
Related articles