​NRL's Heysham team have pledged to join together to support St John's Hospice this January. Keen to raise money and lend a hand to help their local hospice, the team have already been busy at work.
Collecting Christmas tree for recycling
Several colleagues spent a few days away from their laptops to work with other local companies to collect Christmas trees across the region. Local residents made donations to the hospice for their trees to be collected, and the team of volunteers set about picking up the trees ready for recycling. Over 2,000 trees are collected each year, providing vital fundraising for the great work the local hospice does. Each tree is broken down in to chippings which can be sold for biomass fuel.

This year's collection saw 2,500 trees donated, collected over 104 routes– helping generate £34,000 for St John's Hospice and other local causes.
Every mile and pound helps
The Heysham team have also set themselves a challenge to use their daily exercise to help raise donations for St John's Hospice. Whether they run, walk or swim – they'll be donating £1 for each mile they complete – and then challenging their friends and family to do the same. The team are hoping to raise £500 throughout January with their one mile one, pound challenge – understanding just how important each pound they raise will be to the hospice.
​
About St John's Hospice
St John's Hospice provides compassion, care and support to people with life-shortening conditions within their hospice and at home. Services such as the family support team, occupational therapy and social workers, ensure care is provided to families and carers, as well as patients.
They calculate that it costs £385 per hour, each day to provide these much-needed services across North Lancashire, the South Lakes and areas of North Yorkshire. With most of the funding reliant on community fundraising, the hospice holds a special place in the hearts of local residents.
You can find out more about the great work St John's Hospice do by visiting their website on the link below.
​
Fundraising Update
From walking miles and miles, to raffling off delicious looking cakes - friends and family joined our Heysham colleagues to work together to raise £573 for St John's Hospice. As COVID-19 restrictions begin to be lifted across England, the team will also be looking at how they can use their annual charity days to support the hospice with hands-on support later in the year.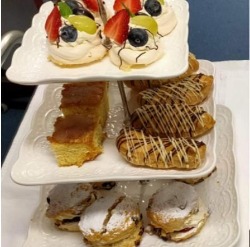 ​
Related articles