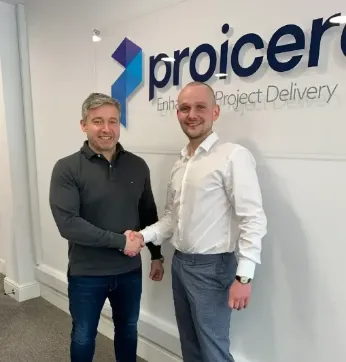 Engineering recruiters NRL are partnering with project controls consultancy Proicere to help them super charge their business by attracting new talent to allow them to extend their operations.
Based in Warrington, Proicere, has experienced continued growth within their client base in recent years as they develop innovative project control solutions through specialist project planning, BIM and 4D planning consultancy. This enables clients to visually see detailed projections of how a project will look at any given point in time - mitigating risk and identifying opportunities to innovate.
Proicere's focus on key engineering sectors such as nuclear and defence, in which they have gained substantial expertise since 1990, makes their recruitment partnership with NRL the ideal match. Having provided specialist technical and engineering recruitment and workforce solutions since 1983, the team at NRL will be on hand to manage the day-to-day recruitment for Proicere on a sole supply basis. As well as working with them to develop the right strategy to ensure their resourcing requirements meet their future projected business growth.
Celebrating the new partnership, Proicere's CEO Karl Dooner noted,
"At Proicere we're on a really exciting journey, that's already seen our business gain a good reputation for innovation and excellence amongst our peers. We're keen to build on this momentum and ensure we have the right people in place to continue to deliver our project control expertise as we take on more and more projects. Working with the team at NRL, we know they truly understand our business and what drives it, so they can identify the best talent who share the same desire to continually improve how we do things."
​
Discussing the formalisation of the partnership, NRL's Group Director Greg Compton said,
"It's been an absolute privilege to have supported Karl for over 20 years now, to ensure he's able to find the right people to drive success. In more recent years the exciting growth of Proicere has been extremely rewarding to see. The business' culture of innovation and passion when developing solutions for their clients makes for a great working environment. So we know when we're talking to candidates about opportunities to join their team, they'll be making a really positive step in their career with Proicere."
​
Related Articles